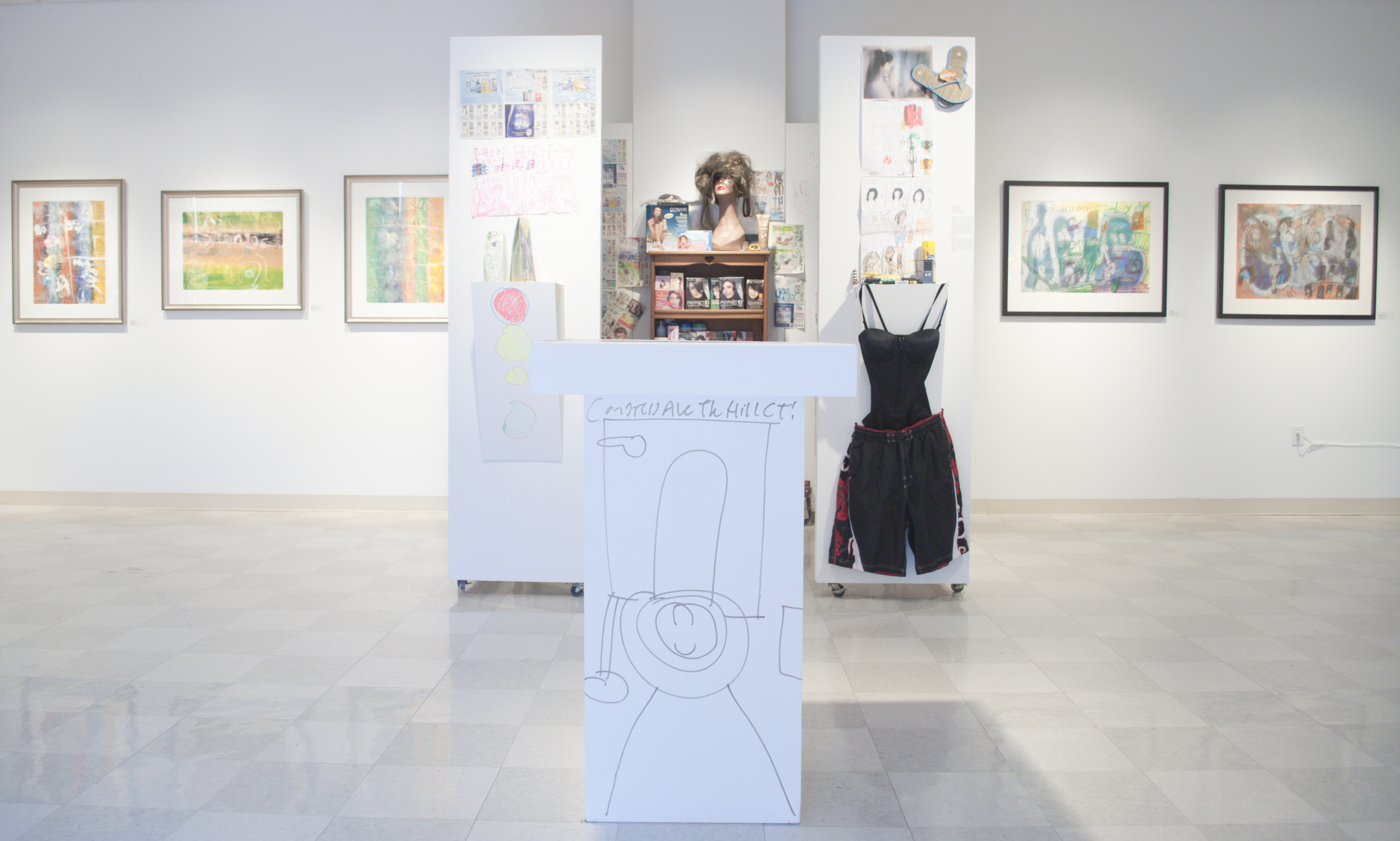 My solo exhibit at the Akus Gallery at Eastern Connecticut State University, "Unfiltered V: Vito Bonanno Riding with the Train Girls" on view from January 19 through March 1, 2012.  An Interactive Mural project, which is a Dean's Cup event, takes place Thursday, Feb. 2 from noon to 5 p.m. in the Akus Gallery, bottom floor of Shafer Hall.
Students, staff, faculty and members of the community are invited to join me in creating the mural. Guests are invited to enjoy a Reception on Thursday Feb 2 from 5- 7 p.m. in Akus Gallery. Thank you to all my fans and supporters, it was a great moment. As part of the solo exhibition is a unique installation that was created expressly for the Unfiltered V exhibition at Eastern. It is a recreation and mash-up of several of the 'shrines' that I build in my studio and living space including the installations Raining at JCC, Elo, Jim Morrison and the Apps 40 Years in the Future, Pledge, and Empire State. Also included in the free-standing kiosk are a series of my journals and other objects. These installations and their contents give insight into my visual vocabulary. They also give a sense of the systematic, obsessive, and rhythmic way that I work and collect objects that inspire me.
I am very proud of this Review by renowned Gallery Director of Akus Gallery, Elizabeth Peterson – "Vito Bonanno's art contains the essence of his life, feelings, thoughts and dreams, centered around objects or topics that 'get stuck in his head', including traffic lights, grids, ceiling fans and graffiti. His work is image and concept driven and may incorporate any media which will fuel this expression. Using spray paints, gouache, India inks, oils, acrylics and other media, Bonanno works on paper, canvas or whatever support may suit. Most of the characters or topics he draws are important to his life and embedded in his personal philosophy. His work has been described as raw, unfiltered, unedited, truthful, comedic, irresistible, bold, playful and charming, much like the man himself. He has found a way to tap into the intensity of focus and insight afforded him through Autism Spectrum Disorder to unleash a formidable creative power and vision."  — Elizabeth Peterson, Director of the Akus Gallery.